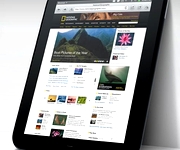 Hewlett-Packard is going to unveil a new magazine aimed at the users of its Touchpad tablet, the company announced.
The company said that the monthly digital publication, dubbed Pivot, will cover all the new content and apps for the device. It also claimed that the publication will portray how the new Touchpad is unique and really different from all other tablets present in the market today.
"Pivot will include visually driven editorial pieces, columns from notable guest writers sharing their perspectives on digital culture, feature stories focused on applications around specific topics, and in-depth reviews," HP said in a statement.
Pivot will also take advantage of its electronic medium by being completely customized to each individual's tastes and preferences.
This new publication is meant to make the Touchpad user community aware of what the tablet has to offer and prevent losing customers to other tablets that come on the market.
The Touchpad, slated for launch on July 15, is going to be powered by WebOS, the operating system platform that HP acquired when it purchased Palm.
Apple's iPad and iPad 2 continue to dominate the tablet market, and it's not clear if this magazine will effectively combat the iPad's popularity or if it will just be seen as another form of marketing.
Read more: http://www.itproportal.com/2011/06/27/hp-publish-touchpad-focused-magazine/#ixzz1QmSsKVHO