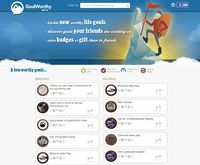 CrossComm, Inc. announced today the launch of GoalWorthy.com, a free social game for discovering new life goals, earning points for life achievements, and sharing life victories with family and friends. In addition to the GoalWorthy.com website, the GoalWorthy iPhone and Android apps are available as free downloads for playing GoalWorthy on-the-go.
GoalWorthy uses social media and gamification to create a unique goal-setting experience. Users play by accepting real-life goals from the GoalWorthy community or by contributing their own goals. They can also use GoalWorthy to follow their friends' goal activity and provide encouragement. Players determine the worth of a goal using a voting system and as a goal receives more "worthy" votes, the points awarded to players upon achievement of that goal increases as well. The continued earning of points will cause a player's life to "Level Up." The GoalWorthy platform integrates seamlessly with Facebook, and GoalWorthy users can suggest goals and gift badges in recognition of achievements to their Facebook friends.  
"Our society spends a tremendous amount of time and energy on video games. As a gaming enthusiast myself, it would be great if we could channel some of that enthusiasm into achieving real world goals that matter to ourselves and our communities and Level Up our real lives." says Don Shin , CrossComm CEO. "Social media is an inherently powerful platform for personal goals as we tend to try harder when others are watching, and support from our community is essential for overcoming life's challenges. With the New Year approaching, we hope GoalWorthy will help our players have more fun in setting New Year's resolutions with their friends."
iPhone App Link : https://itunes.apple.com/us/app/GoalWorthy/id580656247
Android App Link : https://play.google.com/store/apps/details?id=com.goalworthy.android