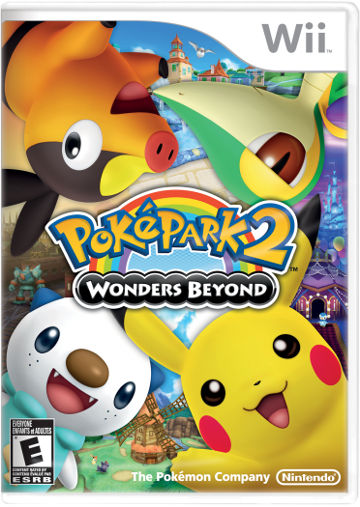 Today's launch of the new PokéPark 2: Wonders Beyond game for the Wii console invites players on a new Pokémon adventure. Pikachu and his Pals – Oshawott, Snivy and Tepig – must work together to discover the secrets of the mysterious Wish Park and save missing Pokémon. Players can play as any one of these four Pokémon, and because each Pokémon has its own unique abilities, they'll need to switch between them to overcome various obstacles along the way. Pikachu will encounter new Pokémon and reunite with old favorites in a colorful array of new areas and environments.
"The imaginative fun of the world of Pokémon really comes to life in PokéPark 2: Wonders Beyond," said Scott Moffitt, Nintendo of America's executive vice president of Sales & Marketing. "The game offers fun challenges and adventures for Pokémon fans of all experience levels."
As they play through the game, players will also experience fun activities, battles and Attractions. In activities, Pikachu and his Pals can befriend other Pokémon by playing games such as chase and hide-and-seek, and even battles. Battles let players go head-to-head against powerful Pokémon. Attractions range from dancing to flying through space in a race around the stars. Family members and friends can all join in the fun, as one to four players can participate in Attractions, as long as each player has his or her own Wii Remote controller, which is sold separately.
Remember that Wii features parental controls that let adults manage the content their children can access. For more information about this and other features, visit http://www.nintendo.com/wii.
For more information about PokéPark 2: Wonders Beyond, visit http://www.pokemon.com/pokepark2.