Pioneer Electronics (USA) Inc. introduces five new in-dash multimedia DVD receivers that meet consumers' desire for more smartphone connectivity and integration. The new line of multimedia DVD receivers features Pioneer's exclusive Advanced App Mode, smartphone connectivity and MIXTRAX™ virtual DJ technology plus high resolution touchscreen displays, DVD/CD media playback, USB connectivity, Pandora® internet radio connectivity and more. Several models also integrate direct control of the SiriusXM® Vehicle Connect Tuner, Bluetooth® wireless connectivity and built-in HD Radio® Technology.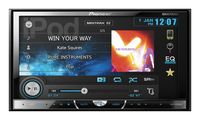 ADVANCED APP MODE (All Models)
A feature derived from Pioneer's innovative AppRadio, Advanced App Mode for iOS is now available in all 2013 multimedia DVD receivers (compatible iPhone® and appropriate Pioneer accessory cable required, sold separately). Through their large WVGA LCD touchscreen displays combined with the free of charge Pioneer AppRadio App, users can easily view and control compatible third-party apps installed on their compatible iPhone devices, expanding the receiver's functionality to more than just a traditional car receiver. More than a dozen smartphone-based apps optimized for in-vehicle use are available.
MIXTRAX MUSIC TECHNOLOGY (All Models)
Pioneer's revolutionary MIXTRAX virtual DJ technology is incorporated into each model, transforming a music library into a nonstop playlist that delivers a unique DJ-infused listening experience. The MIXTRAX virtual DJ inserts transitions and effects to music played from a compatible iPhone, iPod or USB storage device.
SIRIUS XM RADIO CONNECTIVITY (AVH-X3500BHS and AVH-X5500BHS)
Both the AVH-X3500BHS and AVH-X5500BHS feature direct SiriusXM compatibility with the SXV200 SiriusXM Vehicle Connect Tuner (sold separately, SiriusXM subscription required). The SiriusXM Vehicle Connect Tuner offers a simple, inexpensive solution for adding satellite radio, and Pioneer's multimedia DVD receivers are the first in-vehicle products to market that include the new Tune Start and Tune Scan features. 
BLUETOOTH WIRELESS CONNECTIVITY
From the AVH-X2500BT and up, Bluetooth connectivity is built in to provide a wireless communication and data connection to Bluetooth enabled devices. The Bluetooth profiles include the Hands-Free Profile (HFP) for wireless calling and receiving; the Advanced Audio Distribution Profile (A2DP) for wireless audio streaming; the Audio Video Remote Control Profile (AVRCP) version 1.3 for wireless control of devices and related metadata (if available) to be viewed directly on the Pioneer touchscreen display; and the Serial Port Profile (SPP) for streaming and control of Pandora internet radio from Android™ smartphones.
HD RADIO TECHNOLOGY (AVH-X3500BHS and AVH-X5500BHS)
The AVH-X3500BHS and AVH-X5500BHS feature integrated HD Radio tuners, providing clear digital reception of HD Radio HD1, HD2 and HD3 broadcasts from participating radio stations around the country. Both models also feature the HD Radio Artist Experience™, displaying album art or station logos (when available) in addition to the artist and song title information.
INTEGRATED FEATURES
Pioneer's multimedia DVD receiver lineup offers a large, high quality 6.1 or 7-inch WVGA touchscreen displays. A new graphical user interface (GUI) in conjunction with Pioneer's intuitive Touch Slide Control provides easy and intuitive control of various sources and features.
Pioneer's multimedia receivers will be available in November 2012 with suggested prices of $300 (AVH-X1500DVD), $350 (AVH-X2500BT), $400 (AVH-X3500BHS), $450 (AVH-X4500BT) and $500 (AVH-X5500BHS).