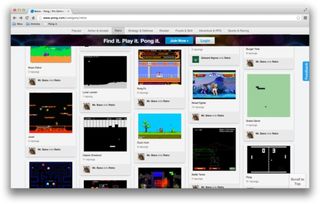 Pong.com has officially launched their exciting new platform that is set to revolutionize casual gaming online. Pong, which stands for "Pin Online Network Games" does exactly that. The site allows users to organize and share their favorite flash games in one convenient online location. Comparably it's like Pinterest, only with video games.
Users have the choice to register for a profile or play games anonymously. After joining, a member has access to organize their own boards to bookmark games. Pong.com provides seven key boards to help better organize games across the site. The boards include Action & Arcade, Retro, Strategy & Defense, Shooter, Puzzle & Skill, Adventure & RPG and Sports & Racing. The vast difference in game categories allows users of all tastes to find games they love on Pong.com. Because there's only so long you can play Candy Crush.
The site is already a rich database for casual games, but the 'Pong it' button feature allows users to 'Pong' their own games from across the web onto their profile's boards. Members place the 'Pong it' button on their preferred browser and when they see a flash game they like, with a click of the button it can be added to their boards on Pong.com. Additionally, members can follow other members to see what new games they Pong and add those games to their own boards.
Pong.com aims to be the premiere online resource for all flash games. The Pong difference is the ability to share, comment and bookmark games all in one place. Pong.com is creating a community that includes all types of gamers, from the casual gamer up to the hardcore gamer. Registration is free and Pong.com provides all users full site access with no fees of any kind. Play your old favorites from Donkey Kong, Galaga, to new shooter games and yes, even Candy Crush. Pong.com looks forward to enriching the online gaming world in a fun and interactive way that will change how you play flash video games forever.
Get addicted at www.pong.com
PRNewswire