Delkin Devices is proud to announce the newest addition to their extensive product line of CompactFlash memory cards, the
CF 1050X UDMA 7 Cinema memory card
. With improved read and write speeds, Delkin's 1050X Cinema card guarantees smooth, continuous recording and playback on DSLR cameras, especially ones that record in 4K.
Delkin's CF 1050X is a specialized cinema memory card that's designed to excel in high-end recording equipment, such as 4K cameras and digital backs. Capable of recording data at speeds up to 120 MB/s, the 1050X is our fastest card to date and is able to keep up with the most demanding digital cinematography requirements. "With Delkin's CF 1050X Cinema cards, filmmakers can confidently know that all of their footage will be captured in its entirety, without dropped frames," says Delkin Marketing Manager Anna Lopez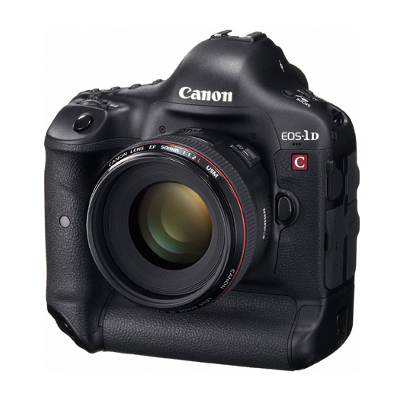 Canon EOS-1D C
The 1050X is approved to work in high-end cameras that support 4K UltraHD recording, such as Canon's EOS-1D C and C500; undergoing thorough testing to ensure compatibility and flawless performance. To record footage in 4K at 24fps, the Canon 1D C requires memory cards that are UDMA 7 and have a minimum write speed of 100 MB/s. Cards with a write speed less than 100 MB/s will either drop frames during filming or stop recording. The 1050X also works on digital file recorders, like AJA's Ki Pro Mini.
The CF 1050X Cinema card also helps improve user workflow by reducing the amount of time it takes to transfer files from card to computer. With a read speed of 160 MB/s, the 1050X saves time and allows you to work on other project-related tasks. As the file size for 4K footage is significantly larger than 1080p, our cards are built to transfer files quickly and efficiently, so that you can utilize your time to the fullest. No longer will you have to wait hours before you can start editing footage.
All of Delkin's memory cards are designed, engineered, and built in the U.S. and are covered under our Lifetime Warranty.
About Delkin Devices, Inc.
Delkin Devices' consumer group manufactures storage devices, such as memory cards and digital accessories, for the photography market.  Delkin has been in business since 1986 and has offices located in the U.S. and Europe. High resolution images and samples are available.