After significant retail success on consoles in Europe and Asia, the best-selling title,Farming Simulator for PlayStation®3 and Xbox360®, finally arrives digitally and in stores on November 19, 2013 in North America. This is great news for the many American players who have been anxiously awaiting the North American console release since Europe's launch last month.
Released in early September, Farming Simulator topped the European sales charts, and surprised Japan where players discovered the game for the very first time by hitting the Top 20 list. The results abroad greatly helped Farming Simulator find a spot with American retailers.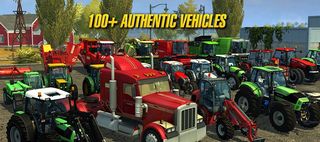 Developed by Giants Software and published by Focus Home Interactive, the Farming Simulator series seduced a large audience by recreating the subtleties of modern agriculture and offering up an open world where players have the opportunity to take on the challenges of a modern day farmer.
Come November 19th, existing fans and those brand new to the game will experience new content including a vast American backdrop in addition to the European landscape already familiar to PC players. Farming Simulator for PlayStation®3 and Xbox360® features immense fields, true-to-life challenges, and endless opportunities to develop and expand your farm, from planting and harvesting crops to purchasing animals and selling their byproducts.
The game grants players access to a large fleet of authentic agricultural vehicles, faithfully reproduced from the biggest manufacturers in the industry, and includes large machinery capable of laboring the vast fields of the new American environment.