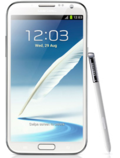 At the Samsung Mobile Unpacked event held Wednesday at IFA, in Berlin, Samsung introduced the GALAXY Note II, a whole new level of innovation for the GALAXY Note category.

"This year, again at IFA, I am proud to announce the GALAXY Note II, which will encourage users to 'unleash their inner creativity.' With a perfect viewing experience and unique and differentiated features, users can discover information and capture their ideas faster, express thoughts freely and manage tasks more efficiently," said JK Shin, President of IT & Mobile Communications Division at Samsung Electronics.

Air View allows users to hover with the S Pen over an email, S Planner, image gallery, or video to preview the content without having to open it. This feature enables users to quickly search and see more information in one view without screen transitions.

A feature called Popup Note extends the concept of Popup Play, which lets users open an S Note instantly as a pop-up window anywhere on the screen. For example, when a user pulls out the S Pen during a phone call, the S Note application automatically pops up on the screen, allowing users to jot down a quick note.

The S Pen's advanced features provide enhanced capabilities to capture ideas and inspirations instantly, and to combine handwriting with any digital content directly on the screen. The Easy Clip feature allows users to instantly outline and crop any content on the screen in any shape to save, share or paste. Once done cropping the image, users can freely edit the cropped content through coloring, shading, or their own personal handwriting. 

Another expression feature called Idea Visualizer allows users to easily add illustrations by handwriting keywords on the S Note. It provides illustration images that match the handwritten keywords.
The GALAXY Note II features a 5.5" (140.9mm) HD Super AMOLED screen and 16:9 screen ratio. Interior features include a 1.6GHz Quad-Core processor and HSPA Plus or 4G LTE connectivity and is powered by Android™ 4.1, Jelly Bean and has a 3,100mAh battery. The memory options are 16 GB, 32 GB, and 64 GB with an expandable micro SD memory slot.

The GALAXY Note II comes with an 8 megapixel rear-facing and 1.9 megapixel front-facing camera with HD video recording. In addition to that, the GALAXY Note II features a unique camera function called Users can also personalize photos by leaving handwritten notes on the backside of a photo using the S Pen. Handwritten Photo Notes can be shared with others in jpg format.

Available in Marble White or Titanium Gray color options, the Samsung GALAXY Note II is set to launch in October starting in major European, Asian, and Middle East markets.

Full details, video content and product images are available at Samsung's IFA 2012 microsite: http://samsungifa2012.com