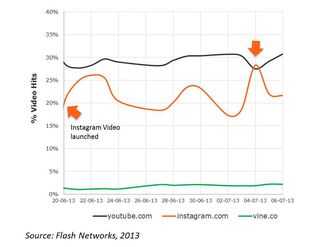 Based on an analysis of mobile data traffic from its installed customer base, Flash Networks, the leading provider of mobile Internet optimization and monetization solutions, found that Instagram video viewing exceeded YouTube on the fourth of July, America's independence day, reaching close to 28 percent of total video hits. The findings were based on mobile Internet traffic data retrieved from over 30 million smartphone users in North America during the first week of July. Surprisingly, in comparison with Instagram's sharp spike, YouTube video hits slightly decreased that day and Vine's video hits stayed relatively flat.
These findings, based on Flash Networks' Harmony Analytics data, demonstrate the success of Instagram's video launch last month and the growing popularity of subscribers using video to capture memorable holiday moments. Google's YouTube is still clearly the most popular video service, and continues to maintain its superiority in the total volume of mobile video traffic. However, Facebook's Instagram has demonstrated that it can generate usage rivaling YouTube by being the application of choice for capturing and sharing holiday celebrations.    
"It appears that subscribers are moving over to video as the preferred format for capturing holiday memories with family and friends," said Merav Bahat, Vice President of Marketing and Business Development at Flash Networks. "With all the growing bandwidth requirements, mobile operators are continuing to invest in network upgrades and optimization to meet subscribers' insatiable desire for rich mobile content."
Flash Networks collected this data using Harmony Analytics which provides the ability to drill down and analyze traffic based on data plan, (e.g. prepaid, postpaid), devices, bearer, (e.g. 3G, 4G), application, domain, or any combination of these factors. This analysis is helpful for identifying browsing behavior for advertisers to monetize the mobile Internet. 
PRNewswire