For decades, Resource, the largest independent digitally-led marketing agency in the country has connected consumers with brands using next-gen technologies, and today the agency is releasing a Google Glass application for a major consumer brand.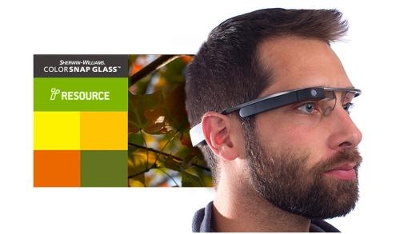 ColorSnap® Glass developed by Resource for Sherwin-Williams, North America's largest single-source supplier of high-quality paints, lets consumers instantaneously act on color inspiration by adding a digital layer right before their eyes. Resource developed ColorSnap Glass as part of Google's Explorer program; an exclusive group of innovators selected by the company to shape the future of Glass. Still in beta and available for download at www.colorsnapglass.com, the new application joins a suite of award-winning digital tools developed by Resource for Sherwin-Williams that has fundamentally changed the way consumers discover and select color.

"Resource Lab is a technology accelerator that ideates and fast-tracks breakthrough consumer experiences using the latest digital technologies. We're enthusiastic about the possibilities that Google Glass gives our clients to connect with consumers in unobtrusive ways," said Dan Shust, Vice President of Innovation at Resource. "Wearable technology is the next frontier in mobile computing and ColorSnap Glass and other consumer-focused applications will play a large role in the acceptance and adoption of the new technology."

For seven years, Resource and Sherwin-Williams have successfully launched numerous digital and personalized consumer experiences using the latest technology. Most notable is the 2009 launch of the original and highly-successful ColorSnap mobile application. Named by Advertising Age as one of the Top 10 Branded Apps of the Decade, the application has been downloaded more than one million times. And while ColorSnap Glass is also designed to help consumers explore color, the new application streamlines the original version, elevating features best suited for wearable technology.

"We're committed to harnessing the latest in technology in order to create superior experiences for our customers," said Ellen Moreau, Vice President of Marketing Communications at Sherwin-Williams. "Cutting edge applications like ColorSnap Glass elevate our brand and keep us top of mind with consumers by bringing color inspiration to life in a fun and engaging way."

As part of the test and learn approach to developing Google Glass applications, Resource and Sherwin-Williams will be seeking consumer feedback about ColorSnap Glass at www.colorsnapglass.com. Resource CEO Kelly Mooney says it's an essential part of the development process.

"We're steadfast on breaking new ground that uniquely empowers and inspires consumers, which means we have to make them a part of the conversation," said Mooney. "Digital innovation is part of our DNA and we'll continue to be pioneers in the space."