Today, Polk announced the latest speaker offerings from its Heritage Collection of personal and portable audio—the Camden Square and Woodbourne. Camden Square boasts an impressive 24-hour battery life, with an accompanying DJ Stream app that allows music streaming through the speaker from multiple sources, making it perfect for any social gathering or occasion. For home entertainment, the Woodbourne offers discerning audiophiles high-performance movie and music listening that leverages Bluetooth® and AirPlay® capabilities elegantly embedded in a mahogany and cream exterior.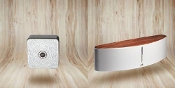 Named after Camden Yards in Polk's hometown of Baltimore, Md., Camden Square was designed to channel classic Americana while showcasing the brand's 40-plus years of audio expertise. A retro, etched metal top and chestnut sides enclose the speaker's four full-range high-performance drive units and two bass radiators, which work together to deliver high-quality sound that stands apart from the crowd. Camden Square also features Polk's Digital Signal Processing and an optimally designed acoustic system to provide a full, balanced sound at any volume without the distortion. Stand it up on its side for personal late-night music listening, or bring the party to life by facing it upward for room-filling sound.  
"Camden Square and Woodbourne are two iconic wireless speakers embodying Polk's classic aesthetic and sound that make listening to music a more shared experience," said Al Baron, product line manager at Polk. "Bluetooth wireless technology enabled speakers are compact and convenient, but until now, they've only streamed music from one listener's playlist. With Camden Square and its complementary DJ Stream app, users can compile and play music from up to four devices, making it easy to collaborate and share favorite tunes among friends and family."
Created uniquely for Camden Square, Polk's DJ Stream app works with both iOS and Android devices and adds an interactive element to music listening. The app identifies one user as a DJ Host, and allows up to three other users to connect and play music as Active DJs. The four connected DJs can select music from their own libraries, either online or those already resident to their phone, and take turns adding to a main playlist, while up to 128 additional Guest DJs can view the playlist, vote on music and become an Active DJ when one of the four drops off or disconnects. The DJ Stream app is free for download. The Camden Square speaker will retail for $299.95.
On the home audio front, the award-winning Woodbourne speaker ($699.95) is a powerhouse of sound, with 180 watts of wireless audio delivering immersive sound for music, movies or other living room entertainment. Featuring optical and analog inputs, the Woodbourne easily plays rich and detailed sound from TVs; it also uses AirPlay and Bluetooth wireless technologies to stream music from a variety of home devices. Listeners will appreciate its sleek and elegant design while having full acoustic suspension and bass for a completely immersive home audio experience.
Camden Square and Woodbourne will be available starting Nov. 1 at www.polkaudio.com and at select Best Buy locations beginning Nov. 3. The DJ Stream app is now available for free download from the Apple Store and Google Play.