A Denver, Colorado based startup has launched an innovative way to type on smartphones. Named ZoomKeeTM  by Entropy Wrap, LLC, this patent pending technology automatically magnifies the keyboard around the characters a user is typing, making it significantly easier to edit text while typing. In a world of software keyboards that provide obtrusive predictions, this technology aims to put the user back in control of typing.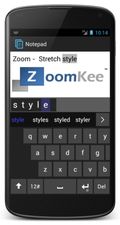 With traditional software keyboards it is a challenge to type on limited size touch screens. When typing names, addresses or other proper nouns a user has to be extremely careful in selecting the right characters. The ZoomKee keyboard combines a familiar QWERTY layout with a zoom feature that provides essential control over typed characters. This makes typing words that are not found in dictionary a breeze. No more cumbersome cursor repositioning or backspace and retyping. The ZoomKee prediction engine also updates its suggestions based on user editing actions making it easier to fix typos and find words from the dictionary.
The ZoomKee keyboard features multiple zoom styles. Users can choose from:
- Stretch - Stretch the keyboard in the horizontal direction for narrow screens.
- Magnify - Magnify the keyboard in both directions for small screens.
- Fisheye - Larger keys around typed character with all keys in view.
- Static - Suitable for editing words on wide screen devices.
The ZoomKee keyboard combines a simple no-clutter layout with an array of colorful skin options designed to make the user experience more delightful. Check out a video demonstration of the zoom feature.
Version 1.0 of the ZoomKee keyboard application that supports the English language is now available on Google's Play store. Users can download a free limited time trial on Android smartphones (over 1500 different Android devices are supported).